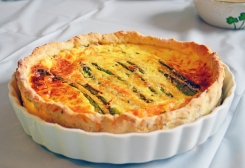 Can use with your choice of Chebe Dry Mix: Garlic-Onion Breadstick Mix, Pizza Crust Mix, Focaccia Mix, All-Purpose Bread Mix, Original Cheese Bread Mix
Ingredients
1 Box of Chebe Pizza Crust Mix (7.5 ounce box)
Some extra Chebe Mix to keep dough from sticking as you manipulate it
1 Bunch of Asparagus
1-1.5 Cups of plain fat free Greek yogurt
3-4 Sprigs fresh thyme leaves
3 Cloves, pressed/minced garlic
1/2 Red onion, thinly sliced into strips
1 tbsp Brown sugar
Salt and Pepper to taste
3/4-1 Cup 2% shredded cheddar cheese
3-4 Eggs (3 were used in photo recipe)
Handful shredded parmesan cheese
Cooking spray
Directions
1.Preheat oven to 450 degrees
2. Combine yogurt, garlic, thyme leaves and cheddar cheese in a bowl. Season with salt and pepper to taste. Set aside.
3. Slice onion and toss into saute pan with about 1 tbsp olive oil and 1 tbsp brown sugar-cook until soft and carmelized.
4. Remove discolored ends of asparagus and discard.
5. Saute asparagus in about 1 tbsp olive oil until soft and cooked through-season with a little salt and pepper.
6. Spray pie/quiche dish with cooking spray and then sprinkle and coat dish with gluten free flour to keep the dough from sticking (GF dough can be super sticky and hard to manipulate).
7. Spread pizza dough out into dish using your fingers making a crust-bring dough up the sides.
8. Whisk eggs and carmelized onions into yogurt mixture.
9. Pour egg/yogurt mixture into dish.
10. Place cooked asparagus on top and then sprinkle with parmesan cheese.
11. Bake with filling at 450 degrees for about 30 minutes.
Recipe courtesy of Sylvia, Reel Flavor Blog:
http://www.reelflavor.com/special-diet /gluten-free/healthy-asparagus-quiche/
Youtube Video of Recipe:
Click here to view recipe courtesy of Chebe