Recipe courtesy of Chebe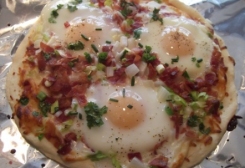 Ingredients
Crust:
1 Package Chebe All purpose or original mix
2 Eggs
2 Tbls Olive Oil
¼ Cup water, 1 tbsp. at a time as needed
Toppings:
Top dough evenly with ½ Cups Shredded Italian blended cheese
5 slices of cooked bacon (crumbled)
1 Cup yellow onion (chopped)
3 Scallions (chopped)
Directions
Preheat oven to 400 degrees
For 2-10 inch crusts:
Make the pizza dough by blending 1 package Chebe All=purpose or Original mix with 2 eggs and 2 Tables olive oil. Slowly mix in exactly ¼ cup of water.
Knead the dough by hand until well blended. Separate into 2 equal pieces. With your hands spread each piece of dough on an ungreased sheet pan or pizza pan to form a 10-inch circle.
For pizza toppings:
Top dough evenly with ½ Cups Shredded Italian blended cheese
5 slices of cooked bacon (crumbled)
1 Cup yellow onion (chopped)
3 Scallions (chopped)
Clear away toppings slightly in 3 areas to make room for eggs.
Crack 3 whole eggs directly onto the pizza, add salt and fresh cracked pepper
Parsley and chives (optional)
Bake for 12-15 minutes, or until pizza is lightly brown and eggs are done to you liking.
Makes 2 pizzas or 8 slices
Recipe courtesy of Chebe