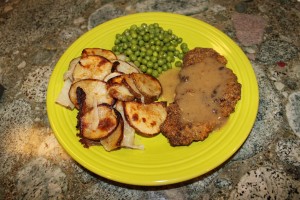 Ingredients
2 lbs Steak (top sirloin, chuck)
2 extra-large eggs
1 Crisco stick
½ cup corn flake crumbs
½ cup corn meal
½ cup brown rice flour
1 tsp cumin
1 tsp dehydrated chipotle pepper
2 tsp garlic
1 tsp black pepper
salt to taste
Directions
Mix corn flake crumbs, corn meal, brown rice flour, cumin, chipotle pepper, garlic, and black pepper in large bowl. Mix well until ingredients blend together. When complete, pour contents of bowl onto flat plate and set aside for now.
Cut steak into 4 even pieces.
Using a meat hammer, beat steak until its ¼ inch thick or less.
Cut each of the 4 pieces in half so that there are 8 even pieces.
Beat eggs in a small bowl.
One piece at a time, dip the steak into the eggs and then place the steak in the flour mixture, flipping front and back to thoroughly coat.
Place the Crisco stick in a large sauté pan and heat on medium until it turns to liquid.
One piece at a time, place steak in Crisco pan and cook until golden brown, then flip and repeat on other side. When complete, remove steak piece from heat and set aside to cool.
9. Make sure to set 3 tablespoons of the Crisco oil aside for the gravy recipe.
Gravy
Ingredients
3 tbsp drippings from leftover Chicken Fried Steak Crisco sauté pan oil.
3 tbsp brown rice flour
1 chicken bouillon cube
2 ¾ cups water
Directions
Crumble 1 chicken bouillon cube.
Place drippings and brown rice flour in a small saucepan and whisk until crumbly.
Add the crumbled bouillon cube to saucepan mixture.
Continuing to whisk, add ½ a cup of water at a time until mixture thickens.
Continue whisking until desired consistency is reached.
Enjoy!!