Click for printable version – Chocolate Chip Cookies
Recipe courtesy of Breads From Anna®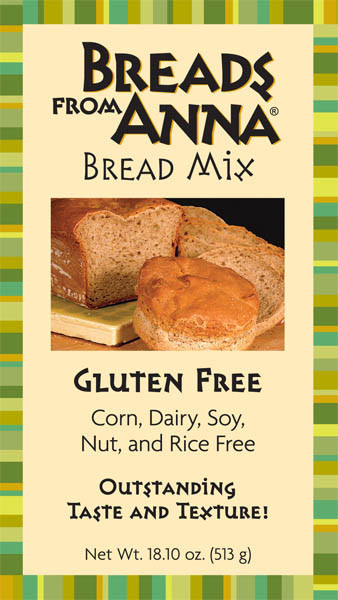 Ingredients
1 ¾ cups Breads From Anna Corn and Dairy Free Breads Mix(Green label)
½ cup Potato starch
1 teaspoon baking soda
1 teaspoon salt (opt)
1 cup butter, softened or All-Vegetable Shortening
3/4 cup granulated sugar
3/4 cup packed brown sugar
1 tablespoon vanilla extract
2 large eggs
2 cups (12-oz. pkg.) Semi-Sweet Chocolate Morsels
1 cup chopped nuts (opt)
1/8 cup water
Directions
1. Preheat oven to 375 degrees.
2. Combine flour, baking soda, and salt in a small bowl.
3. Beat butter, granulated sugar, brown sugar, and vanilla extract in a large mixing bowl until creamy.
4. Add eggs, one at a time, beating well after each addition.
5. Gradually beat in flour mixture. Stir in morsels and nuts.
6. Drop by rounded tablespoon onto ungreased baking sheets.
7. Bake for 9-11 minutes or until golden brown.
8. Cool on baking sheets for 2 minutes and then remove to wire racks to cool completely.
Recipe courtesy of Breads From Anna®