Click for printable version – Maple Cake
Recipe courtesy of Breads From Anna®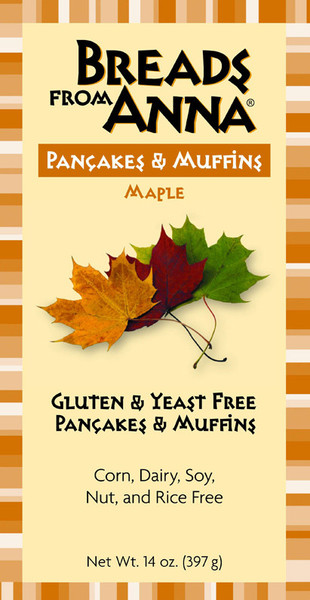 Ingredients
1 package of Bread From Anna Maple pancake muffin mix.
½ cup potato starch
¼ cup brown sugar
½ teaspoon baking powder
½ teaspoon baking soda
1/3 cup oil (coconut,safflower, grapeseed,butter)
¾ cup of milk or favorite nondairy drink
3 jumbo eggs
1 tablespoon vanilla
Directions
1. Preheat oven to 350 degrees.
2. Blend all dry ingredients.
3. Add in the wet ingredients and mix until smooth.
4. Poor into a well greased 13×9 baking pan (or two 8×8 pans).
5. Bake for 35-45 minutes.
6. Cool on baking rack.
Top with frosting of your choice if desired, or see Carrot Cake for Cream Cheese Frosting recipe.
Recipe courtesy of Breads From Anna®