Recipe courtesy of Breads From Anna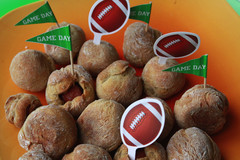 Prep time 20-30 min
Yield 35-40 little piggies in a blanket

Ingredients
1 package Breads From Anna Gluten Free Pizza Crust Mix
Meat or cheese filling of your choice (we used all beef hot dogs!)
1 cup potato starch for rolling and forming dough
Directions
1) Preheat oven at 350 degrees
2) Follow package instructions for preparing dough.
3) Sprinkle a clean surface with potato starch for rolling .
4) Gather approximately 2 tablespoon of dough, roll out and shape into a ball.
5) Place filling of your choice into center of the ball continue to roll until filling is completely enclosed.
6) Place on a parchment lined cookie sheet and bake for 12 to 20 minutes, until golden brown.
7) During the last 10 minutes of baking, brush with olive oil.
Products I Use
Recipe courtesy of Breads From Anna