Click for printer friendly version – Shrimp Curry with Peanut Sauce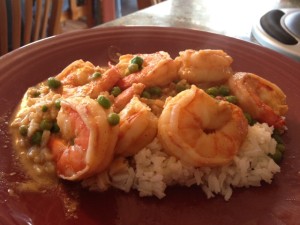 Ingredients
2 lbs medium shrimp
2 tbsp red curry paste
1-14oz can thai coconut milk
2 tbsp fish sauce
3 tbsp brown sugar
2 cups frozen peas
1 cup chicken broth
1-8oz jar peanut satay sauce
4 cups white rice, cooked
Directions
In a large saucepan, simmer red curry paste and coconut milk for 5 minutes.
Add fish sauce, brown sugar, broth, and peas. Simmer for 10 minutes, stirring occasionally.
Stir in peanut sauce and simmer for 2 minutes.
Add shrimp and continue stirring occasionally for 4-6 minutes or until shrimp appears cooked (turns pink and curls).
Serve over white rice.