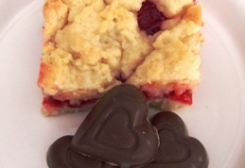 Ingredients
½ C butter (room temperature)
1 C sugar
2 eggs
1/2 tsp. vanilla
1/4 tsp. salt
1 Package Chebe all purpose or Original Mix
(7.5 oz or 1 ¾ C)
l can of cherry pie filling, sugar free.
Directions
Preheat oven 350 degrees
1. Cream the butter and sugar together. Add eggs, vanilla and salt. Mix well.
2. Slowly blend in just the Chebe All Purpose flour or Original Mix.
3. Place half of the batter in an (lightly greased) 8x8 pan. Top with the cherry filling and randomly drop the rest of the batter on top.
4. Bake for 35-40 minutes. Let cool before cutting. May be topped with powdered sugar or a powdered sugar glaze.
Baking hints: With this recipe we used the Original Chebe mix. You could us any filling you wish. Apple or blueberry would be great. Just top it with a bit of cinnamon sugar for added flavor. For a 9x13 pan, just double the recipe.
To view full recipe click Chebe Cherry Bars
Products