View recipe courtesy of Chebe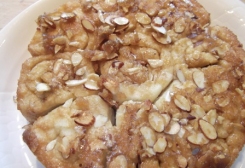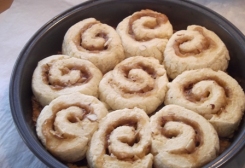 *Can use with your choice of Chebe Dry Mix: Cinnamon Roll Mix, All-Purpose Bread Mix, Original Cheese Bread Mix
Ingredients
1 package Chebe mix (7.5 oz or 1 ¾ C)
4 Tbls. of butter or margarine (divided)
½ C sugar  (only if using Chebe All-Purpose or Original Mixes)
½ C brown sugar (divided)
½ C almonds (divided) (sliced or slivered)
2 eggs
2 tbsp. Oil
¼ Cup Water, milk or milk substitute
Directions
Preheat oven to 400 degrees.
1. Melt 2 Tbls. of butter in an 8×8 square or round pan. Sprinkle ¼ cup brown sugar on top of the warm melted butter. Sprinkle ¼ cup of almonds, evenly, on top of the brown sugar.
2. Blend Chebe mix with eggs, oil and sugar. Slowly mix in exactly ¼ cup of water, milk or milk subsitute.
3. Knead dough with hands until it is smooth.
4. Roll out dough into a 9×5 (1/4 inch thickness) rectangle.
5. Spread dough with the remaining 2 Tbls. of softened butter, ¼ cup of brown sugar, and the ¼ cup of almonds evenly on the dough. With hand, press ingredients lightly into dough.
6. Roll from the wide side up and cut roll into 1-inch slices. Place the rolls in the baking pan and let them rest for 10 minutes at room temperature.
7. Bake 18-20 minutes. Note: (tops may not turn dark brown.)
8. Immediately after removing the rolls from the oven, carefully turn pan upside down onto a plate, giving you topping side up.
Optional: You may choose any type of nut you desire or eliminate them all together.
Baking hints: you may want to roll out dough on parchment or wax paper to prevent sticking.
Makes 9 rolls or sticky buns
View recipe courtesy of Chebe