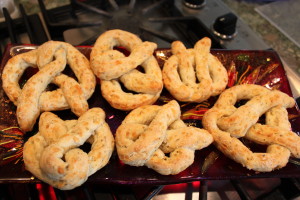 Ingredients
1 box Chebe Garlic-Onion Breadstick Mix
1 box Chebe Pizza Crust Mix
4 eggs
2 cups goat cheese (or your favorite kind)
1/2 cup milk of your choice (rice, soy, almond, etc)
4 tbsp vegetable oil
kosher salt
Oven Temperature: 375 degrees
Cooking Time: 30 minutes
Prep Time: 15 minutes
Directions
1. Mix the two boxes of Chebe, eggs, goat cheese, and oil in a large bowl until crumbly.
2. Slowly add milk and knead into a ball.
3. Cut the ball in half and then cut each half into 3 seperate sections.
4. One at a time, roll each piece between hands long enough to shape into a medium sized pretzel. Repeat until you have 6 pretzels.
5. Brush each pretzel with oil and sprinkle with kosher salt (as much salt as desired).
6. Bake at 375 degrees for 30 minutes or until light golden brown.