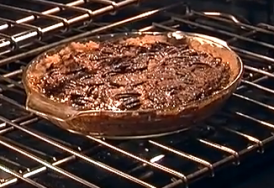 RECIPE
Pie Crust
Breads From Anna Pie Crust Mix
¾ cup oil
¼ cup rice milk
Pie Filling
1 cup Karo Dark Corn Syrup
3 eggs
1 cup sugar
2 tbsp butter, melted
1 tsp vanilla extract
1-1/2 cups pecans
Step by Step
Mix Breads From Anna Pie Crust Mix, oil, and rice milk in large bowl until thoroughly mixed.
Using your hands, mold the mixture into a ball.
Cut the dough in half.
Put one half into the pie dish and mold it to fit.
Stir eggs, vanilla, butter, Karo syrup, and sugar in a large bowl until well blended.
Pour in pecans and continue mixing until they are well coated.
Pour mixture into pie crust.
Bake at 350 degrees for 60-70 minutes until pie is bubbly and pecans are nice and brown.