View recipe courtesy of Chebe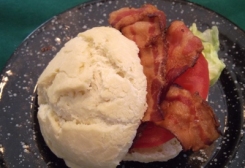 Can use with your choice of Chebe Dry Mix: Garlic-Onion Breadstick Mix, Pizza Crust Mix, Focaccia Mix, All-Purpose Bread Mix, Original Cheese Bread Mix
Ingredients
1 package Chebe mix (7.5 oz or 1 ¾ C)
1 tsp. baking powder (if not using All-Purpose or Focaccia Mixes)
2 Eggs
2 tbsp. Oil
1/4 cup Water, 1 tbsp. at a time as needed (option: milk or milk substitute)
Cheese is optional or dairy free cheese
Directions
Preheat oven to 350 degrees
1. Prepare mix according to package directions. (Note: you may choose to not add the cheese at this time.) Blend all ingredients, slowly blend in 1/4 cup of water
2. Divide into 4 equal patties. Flatten to about ½ inch high.
3. Place on an ungreased baking sheet. Basting the top with a bit of butter or oil helps browning.
4. Bake for 35 minutes.
5. When cooled, slice bun with serrated knife and fill with a grilled hamburger, sliced ham or any other sandwich filling desired.
Makes 4 buns
Click on the product picture to shop on Gluten-Free Mall for Gluten-Free Foods