Click for printable version – Waffle Cone
Recipe courtesy of Breads From Anna®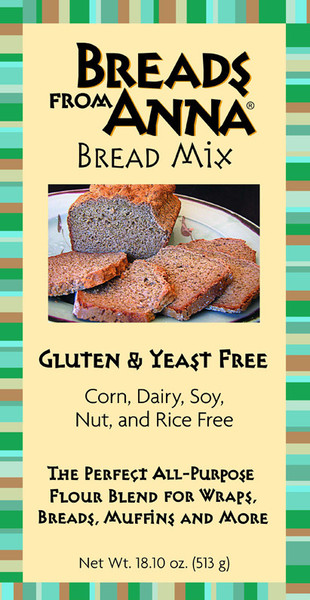 These crisp cookies taste like graham crackers. You could use the batter to make graham crackers by cooking for 1 minute and leaving flat after cooking.
Ingredients
2 large eggs
¼ teaspoon salt
½ cup granulated maple sugar
1 cup Breads From Anna™ Gluten & Yeast-Free Bread Mix
Equipment
Flatbread maker or waffle cone maker
Cone shaped mold
Directions
1. Preheat flatbread maker (may also use waffle cone maker)
2. Set a clean cloth on a flat surface for rolling cones
3. Whisk eggs and salt in a large bowl until well blended. Add maple sugar and continue to whisk until maple sugar is incorporated; about 2 minutes.
4. Add GFCF flour and mix until there are no lumps.
5. Add melted coconut oil and stir.
6. Measure about 2 tablespoons of batter onto the center of the flatbread maker. Close lid. After about 15 seconds, press down on handle.
7. Remove from flatbread maker in 35045 seconds. (Cooking time is shortened the longer the machine is on.)
8. Quickly remove the waffle cone and place on the towel.
9. Using the edge of the towel, quickly roll the cone around the mold until the sides overlap. Hold it in place until the cone seals, about 15
seconds.
10. Set cones upside down to cool.
Makes approximately 10 cones. Store unused cones in an airtight container.
Recipe courtesy of Breads From Anna®