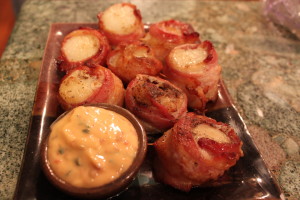 Ingredients
1 ½ pound large scallops
½ pound thin sliced bacon
olive oil
pinch of kosher salt
pinch of ground black pepper
Sauce
1 cup mayonnaise
¼ cup hot chili paste
1 medium sized lime
2 tbsp fresh chopped cilantro
pinch of kosher salt
Directions
One scallop at a time, wrap bacon completely around and skewer with toothpick.
Lay scallops out in a single layer on a baking sheet.
Drizzle olive oil over the top of the scallops and continue by spreading a pinch of kosher salt and pepper.
Broil on high for 10-15 minutes or until bacon is cooked (appears a deep reddish brown color), flip once within this time.
For the Spiced Mayo Sauce: Mix mayonnaise, hot chili paste, lime juice, and cilantro.
Stir until thoroughly mixed. Refrigerate until ready to serve.