Recipe courtesy of Breads From Anna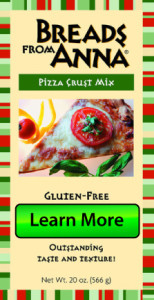 Ingredients
1 package Breads From Anna Gluten Free Pizza Crust and listed ingredients
1 lb thinly sliced Italian roast beef deli meat
1 lb thinly sliced Italian salami deli meat
1 lb thinly sliced coppa (ham) deli meat
1 lb thinly sliced mortadella deli meat
1 lb thinly sliced prosciutto (ham) deli meat
1/2 cup provolone cheese
1/2 cup parmesan cheese
To make vegetarian
2 lbs spinach (wilted)
1 lb feta cheese
1lb parmesan cheese
Directions
1) Preheat oven at 375 degrees.
2) Prepare Breads From Anna Gluten Free Pizza Crust according to package instructions.
3) Divided dough in three balls.
4) On a large cookie sheet place a sheet of parchment paper.
5) Oil and flour (potato starch works well) parchment paper.
6) Roll each loaf of dough into a rectangle about 8 inches by 12 inches. (on the prepared parchment paper)
7) Layer deli meats down on each rolled loaf lengthwise.
8) Top meats with provolone cheese and sprinkle with parmesan cheese on each roll.
9) Fold short ends of each loaf in about 1/2 inch and seal. Roll from the long sides. There will be three long rolls. (You may need to add more flour as you create the roll. The oil from the meats and cheese will absorb the excess flour out)
10) Wrap the parchment paper around your calzone, place the calzone seam side down on greased cookie sheet.
11) Fold ends of the parchment paper under the calzone.
12) Bake for 30 minutes or until golden brown.
13) Remove pan from oven, carefully unroll the calzone from the parchment paper on the top and sides. Keep the calzone on the paper.
14) Brush calzone with oil bake for another 10 minutes.
15) Let cool 10 minutes before cutting. Cut into 1" thick pieces.
Recipe courtesy of Breads From Anna