Cold Sesame Peanut Zoodles
Your favorite Chinese noodle dish with a gluten-free makeover!! This was so good! If you like Asian food you gotta try this! If you love seafood as much as I do, try the Simple Sexy Shrimp Scampi I love to pair with my zoodles!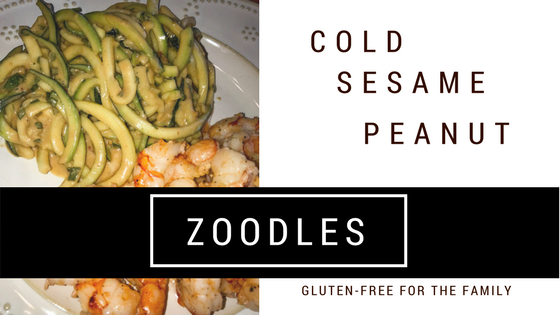 Course: Side
Cuisine: Asian
Prep Time: 10 minutes
Total Time: 10 minutes
Servings: 4
Ingredients
Instructions
In a large bowl, whisk together sesame peanut vinaigrette (peanut butter through salt) and check for seasoning; adjust accordingly.
Add zucchini noodles to the bowl and toss well. Check for seasoning and adjust accordingly.
Garnish with scallions, chopped peanuts and black roasted sesame seeds to serve.