Click to view printable version – Flatbreads
Recipe courtesy of Breads From Anna®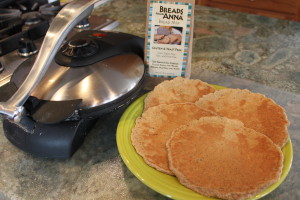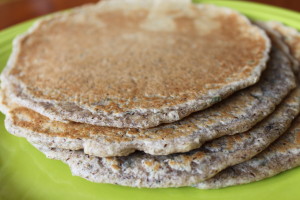 Note: One package of mix will make approximately 20 pieces of flatbread/wraps.
Ingredients
1 package Breads From Anna® Gluten and Yeast free mix (Light blue label)
1 heaping tbsp of dried parsley
2 heaping tbsp of dried onion flakes (Optional)
3 whole eggs
1-¾ cup milk or any non-dairy drink, including water
1/3 cup oil (canola, olive, coconut, butter or any other oil you like using)
Flat bread Maker (we recommend Villa ware)
Directions
1. Add parsley and dried onion flakes to flour blend (optional)
2. Add eggs, milk or non-dairy drink and oil to dry flour blend. Blend until lumps are smooth.
3. Spoon 3-4 tablespoons of dough onto center of flat bread maker.
4. Close lid and let sit about 2 minutes.
5. Place handle down over lid and press down adding pressure to flatten out bread.
6. Repeat this 2 –3 times in quick succession of added pressure.
7. You need to do this downward pressure quickly to allow steam to escape.
Note: Dough can be stored in the refrigerator for 24 hours and used incrementally.
Recipe courtesy of Breads From Anna®