Gluten-Free French Toast! A breakfast lover's dream.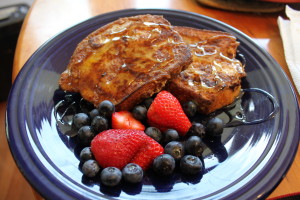 Ingredients
6 eggs
1 tsp vanilla
¼ tsp nutmeg
½ tsp cinnamon
¼ cup milk or creamer
8 slices of gluten free bread
2 tbsp Nucoa buttery stick (or any kind of butter)
Directions
1. Mix eggs, vanilla, nutmeg, cinnamon, and milk on a flat plate.
2. Melt butter in a large skillet.
3. One slice at a time, dip the bread in the egg mixture and flip to evenly coat both sides.
4. Place coated bread in skillet and let cook for one to two minutes on each side or until golden brown.
5. Serve with syrup.