View recipe courtesy of Chebe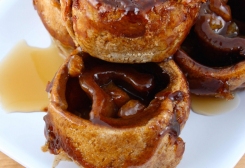 *Can use with your choice of Chebe Dry Mix: Cinnamon Roll Mix, All-Purpose Bread Mix, Original Cheese Bread Mix
Ingredients
1 package Chebe Cinnamon Rolls mix
3 tablespoons vegetable oil
2 large eggs
2 tablespoons milk
2 tablespoons softened butter, divided
1 cup finely chopped mandarin oranges
¼ cup brown sugar
2 teaspoons ground cinnamon
½ cup finely chopped pecans
¼ cup maple syrup
Directions
1. Preheat oven to 375 degrees F and a grease a 12-cup muffin tin.
2. In the bowl of a standing mixer using the paddle attachment, mix Chebe Cinnamon Roll Mix, vegetable oil, eggs and milk until a smooth dough forms.
3. On a lightly oiled surface, roll dough into an 8 x 12 inch rectangle and evenly spread 1 tablespoon softened butter over the surface. Spread the chopped mandarin oranges over the surface of the dough.
4. In a small mixing bowl, combine brown sugar, cinnamon, chopped pecans and remaining 1 tablespoon of softened butter. Mix with a form until crumbly and then evenly sprinkle over the dough.
5. Roll the dough tightly from long side and seal closed by pinching the edges. Cut the roll into 12 equal slices (about 1 inch each) and place cut side down in muffin tin cups.
6. Bake 16 to 18 minutes until lightly golden. Remove from tin immediately using a table knife. Turn over, sticky side up, cool briefly and enjoy!
Makes 12 rolls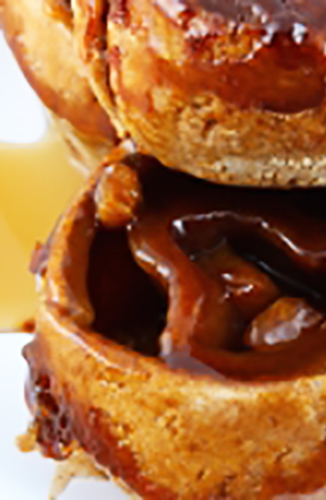 Recipe courtesy of Delight Gluten Free
View recipe courtesy of Chebe