Recipe courtesy of Breads From Anna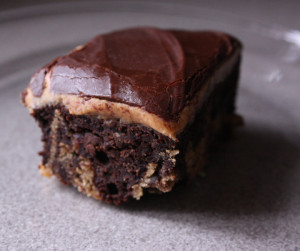 Ingredients
Brownies:
1 package of Breads From Anna Gluten Free Black Bean Brownie Mix
1 large egg
1 15 ounce can black beans
⅓ cup oil (butter, canola, coconut or grapeseed)
⅔ cup milk or favorite non-dairy drink, including water
Peanut Butter Batter:
8 ounces peanut butter
2 large eggs
½ cup sugar
2 tablespoons starch (potato, corn or arrowroot)
Directions
Peanut Butter Batter:
1) Preheat oven to 350 degrees and grease a 9×13 or 2 8×8 baking pans.
2) Blend all peanut butter batter ingredients until smooth with hand or counter top mixer. Set aside.
Brownies:
1) In a medium size mixing bowl, combine all wet brownie ingredients and lightly pulse in the bowl of a food processor.
2) Add in brownie mix.
3) Pour half the brownie batter into pan.
4) Pour and spread peanut butter batter over the brownie batter.
5) With the remaining brownie batter place dollops of brownie batter on top of the peanut batter, do not spread to cover.
6) With a knife cut through the batter to create a marble effect, make four to five cuts.
7) Bake for 40-55 minutes.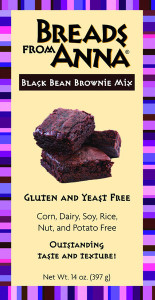 Recipe courtesy of Breads From Anna
Products I Use