View recipe coutesy of Chebe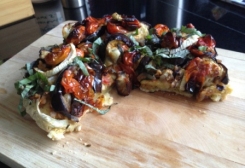 Ingredients
Focaccia:
1 box of Chebe Focaccia Mix
2 tbsp. olive oil
1 cup of shredded cheese (optional)
2 large eggs
1/4 cup water, milk or milk substitute, slowly mix in 1 tbsp. at a time as needed
Toppings:
1 cup of grape tomatoes
1 small eggplant, cut into 1/4-1/2 inch slices
1 small fennel, cut into 1/4-1/2 inch slices
1 small head of garlic
2 italian sausages (or chicken sausage)
1 small onion, sliced thinly
1 tbsp of Earth Balance
Olive Oil
Fresh Basil
Red Pepper Flakes
Directions
Preheat oven to 450 degrees.
Dough Instructions:
1. Using a fork or a dough mixer, blend the contents of the Chebe mix packet in a bowl with 2 tbsp oil and 2 eggs.
2. Add 1/4 cup of milk, milk substitute, or water while continuing to mix. Knead dough with hands until all ingredients are fully blended and the dough is smooth. Roll dough into a ball. Place on a round 9 inch pie pan and work dough so that it covers the whole pan.
3. Onions: In a heavy bottomed sauce pan melt Earth Balance over medium-high heat, add onions and saute until translucent.
4. Reduce heat and allow to caramelize for 30 minutes, stirring occasionally.
5. Tomatoes, Eggplant, Fennel, Garlic: Prepare garlic by cutting off the top third of the head making sure the rest stays intact. Cover in 1 teaspoon of olive oil and wrap completely in tin foil.
6. On a baking sheet, arrange tomatoes, eggplant and fennel in single layer. Coat with olive oil, salt and pepper, making sure to toss well. Roast garlic and veggies in oven for 30 minutes (check periodically to be sure not to over bake.)
7. Once veggies have been removed from oven, reduce heat to 375 degrees and place focaccia in oven for 1/2 of baking time (20 minutes.)
8. Sausage: Remove caramelized onions from pan and set aside. Increase heat to medium-high and add the sausage (removing casing.) Break up and brown well – approximately 10-15 minutes. Turn off heat and set aside.
9. Focaccia Assembly: Remove 1/2 baked focaccia from oven and assemble toppings. First, a layer of roasted garlic spread into an even layer. Next a single layer of basil followed by the browned sausage. Caramelized onions and roasted veggies top it off.
10. Return to oven for remaining 20 minutes.
11. Remove from oven, top with fresh Basil and ENJOY!
Makes 1 focaccia mix
Recipe courtesy of Reformed Foodie Blog: http://reformedfoodie.com/2012/05/01/ recipe-roasted-eggplant-fennel-and-tomato-foccaccia/
View recipe coutesy of Chebe
Click on the product picture to shop on Gluten-Free Mall for Gluten-Free Foods