View recipe courtesy of Chebe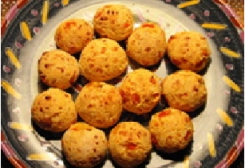 *Can use with your choice of Chebe Dry Mix: Chebe Garlic-Onion Gluten-Free Bread Stick Mix, Chebe Gluten-Free Pizza Crust Mix, Chebe Focaccia Italian Gluten-Free Bread Mix, Chebe All-Purpose Gluten-Free Bread Mix, Chebe Original Gluten-Free Cheese Bread Mix
Ingredients
1 pckg. Chebe Original Cheese Bread Mix
2 tbsp oil,
1 cup of shredded Mexican blend of cheeses and
2 large eggs.
¼ cup of Fresh Tomato Salsa
1/4 cup sliced Jalapeno Peppers
Directions
1. In a large mixing bowl blend by hand the Chebe Original Cheese Bread Mix with 2tbsp oil, 1 cup of shredded Mexican blend of cheeses and 2 large eggs.
2. Slowly blend in ¼ cup of Fresh Tomato Salsa. Knead dough until it is smooth.
3. Separate into 14-16 pieces of dough.
4. Place a slice of Jalapeno Pepper in the middle of each piece and roll into a ball.
5. Place 1-2" apart on a baking sheet lined with parchment paper.
6. Bake about 15 minutes.
Makes 14-16 poppers
View recipe courtesy of Chebe
Click on the product picture to shop on Gluten-Free Mall for Gluten-Free Foods