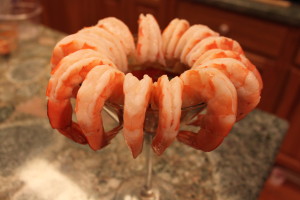 Ingredients
2 lbs Shrimp (or as much as desired)
Cocktail Sauce
1 cup ketchup
3 tbsp horseradish
1 tsp garlic
squirt of lime juice
Directions
Fill medium pot ¾ of the way full with water and boil.
Place shrimp in boiling water for 4 minutes or until they turn pink and appear to curl.
Remove from heat and pour shrimp into strainer to remove excess water.
Rinse shrimp with cool water.
For cocktail sauce, mix ketchup, horseradish, garlic, and lime in small bowl.
Enjoy!