Click to view printable version – Stuffed Peppers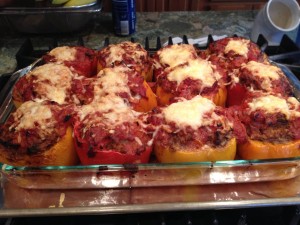 Ingredients
6 bell peppers (orange, red, green, or yellow)
2 tbsp nucoa buttery stick (or your favorite kind)
2 tbsp olive oil
1 cup chopped onion
1 can diced tomatoes
1 can tomato sauce
2 garlic cloves, crushed
½ tsp oregano
1 tsp cumin
½ tsp red pepper flakes
2 tsp salt
1 tsp black pepper
1 egg, lightly beaten
1-1/2 lbs ground beef
2 cups cooked brown rice
2 cups shredded cheese
Directions
Cut tops off peppers and remove seeds and membranes.
Chop edible parts off tops and set aside.
Rinse peppers in cold water.
Heat olive oil and butter in a large skillet over medium heat until hot.
Chop the edible parts of the pepper tops into small pieces and sauté them with the onion and garlic for about 5 minutes.
Add tomato sauce, tomatoes, oregano, 1 tsp salt, black pepper, cumin, red pepper flakes, and cook for about 5 minutes.
In a large mixing bowl, combine 1 tsp salt, ½ tsp black pepper, Worchester sauce, beef, rice, and tomato mixture.
Stuff peppers with mixture and place in 13×9 baking dish with ½" of water in the bottom and bake 375 for 60 minutes covered.
Uncover and top with cheese and any remaining tomato sauce and bake for 15 more minutes uncovered.