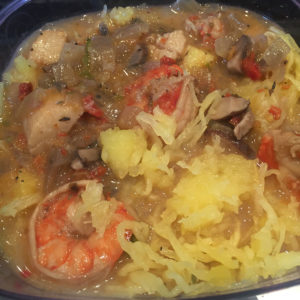 This wonderful sauce can be added to gluten-free pasta or to spaghetti squash (my favorite) for the perfect dinner dish.

¼ cup Butter
¼ cup Olive Oil
1 Medium Onion (chopped)
2 Cloves Garlic (chopped)
1 cup Mushrooms (if desired)
1 cup White Wine

½ tsp. Basil

½ tsp. Crushed Red Pepper (optional)
Salt and Pepper to taste

½ lb. Scallops
½ lb. Shrimp
Heat butter and olive oil in pan; add onion and garlic and heat till translucent. Add in mushrooms and cook until softened. Mix in white wine, basil, salt and pepper and heat through. Mix in seafood and cook for 10 minutes or until shrimp is pink.
Top over spaghetti squash or your favorite gluten-free noodles and top with parmesan cheese.
ENJOY!