View this recipe courtesy of Chebe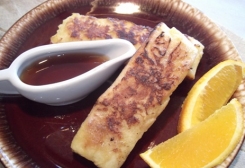 *Can use with your choice of Chebe Dry Mix: Chebe Gluten-Free Cinnamon Roll Mix, Chebe All-Purpose Gluten-Free Bread Mix, Chebe Original Gluten-Free Cheese Bread Mix
This is a 2-step process, baking and frying
Ingredients
Chebe Toast Sticks:
1 package of Chebe mix (7.5 or 1 ¾ C)
2 Eggs
1 tsp baking powder
2 Tbls oil
¼ Cup water, milk or milk substitute
Dipping Mixture:
2 Eggs
1 tsp vanilla
1 Tbls honey
1 Tbls Orange rind, and 1 tablespoon of orange juice
1/4 C of, cream, milk, milk substitute, or water
Directions
Preheat over to 350 degrees
Blend Chebe mix (do not add cheese) with eggs, baking powder and oil. Slowly add ¼ cup of water.
Knead dough with hands until its smooth.
Form the dough into a rectangle 5 x 6 –one inch thick. Cut the dough in 6 one-inch pieces. (You may want to roll dough on parchment paper or plastic wrap.)
Bake the sticks for 20 minutes.
When cool slice in half lengthwise. You will have 12 (1/2 inch pieces) 5 inches long.
French Toast Mixture:
Blend in a large enough pan so you can soak the 12 pieces of bread:
2 Eggs
1 tsp vanilla
1 Tbls honey
1 Tbls Orange rind, and 1 tablespoon of orange juice
1/4 C of, cream, milk, milk substitute, or water.
Let soak so the bread has absorbed the mixture. Fry in butter until lightly browned on each side. Serve with butter and GF Syrup.
Baking Hints: Your French toast mixture can be anything you wish. Cinnamon and vanilla is a great combo.
Makes 12 sticks Chebe toast sticks
View this recipe courtesy of Chebe

Click on the product picture to shop on Gluten-Free Mall for Gluten-Free Foods