Recipe courtesy of Breads From Anna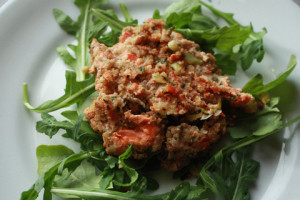 Ingredients
½ pound fresh salmon or crab meat cut into small, evenly sized cubes
½ cup Breads From Anna bread, toasted and crumbled
2 tablespoons mayonnaise (Hellmann's Real mayonnaise is gluten-free)
2 tablespoons fresh parsley, chopped
1 tablespoon honey mustard (Annie's is gluten-free)
1 green onion, minced
⅓ cup celery, minced
⅓ cup red pepper, minced
1 tablespoon green or red bell pepper, minced
Dash of Lea & Perrin's Worcestershire sauce
Juice of one lemon
1 egg, beaten
Salt and pepper to taste
2-3 tablespoons oil for frying
Directions
1. Combine the salmon, bread crumbs, mayonnaise, parsley, mustard, green onion, red pepper, lemon juice and Worcestershire sauce. Add the egg and blend well. Season to taste with salt and pepper.
2. Form into either 8 small, or 4 large patties.
3. Heat 2-3 tablespoons of oil in a large skillet. Turn heat to medium and fry the cakes until golden brown, about 3-5 minutes each side.
Recipe courtesy of Breads From Anna