This is so simple and easy! SO good too!!!! Gluten-Free seafood dishes are amazing. The Cold Sesame Peanut Zoodles were a hit as well and you can find the recipe here.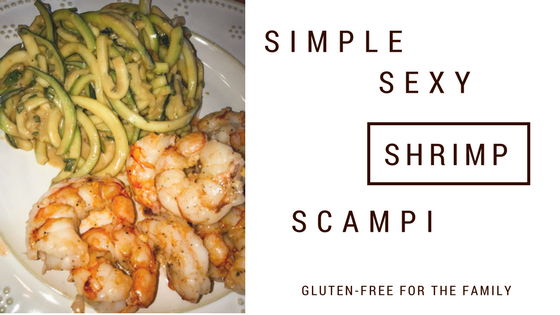 Simple Sexy Shrimp Scampi
Ingredients:
30 medium shrimp – peeled and deveined
2 tablespoons olive oil
2 tablespoons butter, melted
2 cloves garlic, minced
1/2 teaspoon kosher salt
1/4 teaspoon ground black pepper
Directions:
Preheat an oven to 350 degrees F (175 degrees C).
Toss the shrimp in a bowl with the olive oil, melted butter, garlic, salt, and pepper; set aside for 10 minutes.
Arrange the shrimp in a circular pattern in a round casserole dish.
Bake in the preheated oven until the shrimp are pink and cooked through, about 10 minutes, than move shrimp to top rack and turn broil on and broil for 2 minutes.
Take out, serve, and ENJOY!!